Content Marketing Services
We create content that your customers are searching for.
Click below for a FREE honest opinion on how you could get more leads and conversions.
get a content review
Spotty Dog optimised content marketing
Content marketing is one of the most powerful digital marketing strategies and any good SEO campaign should include an element of it.
At Spotty Dog we'll create appealing bespoke content that attracts new audiences and reaches the people that matter to you.
We believe that more content is not always better. But what we do is create content that actually talks to your customers using the language that they use, talking about the things they talk about.
The first thing we'll do is work with you to fully understand your business, industry, goals and people you want to engage with.
If you can take your personality and inject it into the message you share, you'll be one step ahead in the content marketing game." – Jason Miller
We research and write content that builds trust and doesn't trick people. We have over thirty years of experience in business, which means we can understand and quickly establish your goals and challenges.
Our free Spotty Dog review will help you understand what content changes we could make to increase rankings, visitors and conversions on your website.






Competitor analysis
We'll analyse what content your competitors are producing and ranking well for, and apply some of the successful elements of their strategy to use to your advantage.
Content audit
We analyse your content and use our SEO tools to determine areas that could be given a little TLC, and where opportunities lie.
Content creation
New content may be needed to work with the types of searches your prospective customer makes. We will use the keyword research to (work with you to) optimise your existing content or create new copy.
Keyword research
We will research the search queries and phrases that are best for you and your business. Well-chosen keywords are key to a successful campaign.
Content optimisation
We will fully optimise each key page for the most profitable keywords for your business to suit both users and search engines.
Content reporting
We will analyse the success of your content strategy in the form of a monthly report where you will see valuable insights and track progress.
Would you like an honest review of your website?
Request our FREE spotty dog website review.
We'll let you know how our content management services could help you and which areas of your website need focus.
What do our content marketing services involve?
The Spotty Dog strategy builds on extensive research.
Depending on your needs and budget, our content management services follow the following strategy:
1) Research your industry
We will work with you to fully understand your business, industry, audience, and goals. Then we will see what keywords and websites are ranking highly in your sector and analyse what your competitors are doing SEO-wise. This information will give us ideas and opportunities to improve your site's ranking and increase traffic.
We use tools such as Semrush and SEO Surfer to analyse things like competitors' success, keywords to target, and top ten ranked pages. We're very happy to show you how powerful these tools are. The first time we saw the possibilities, we were astounded!
2) Analyse current content
Before we do anything, we will undertake a content audit and analytics setup to understand what is working well, and what could be improved. It's totally possible that there a things that engage your customers that you have no idea about.
We take into account both SEO indicators and engagement metrics from Google Analytics to determine whether your current content is well-optimised and valuable to visitors.
We'll be able to find out where the initial SEO opportunities are and which pages need a bit more work to improve your customer's user experience.
3) Content production and optimisation
Put simply, content marketing is just the vehicle you use to get your message out to the world.
We can create new content, blogs, or conduct on-page optimisation, to make it answer as many search queries and questions visitors to your website have. In providing great content for your audience, your site should increase its brand authority and ranking.
SEO is incorporated into everything we do. Our SEO tools enable us to spot more and more amazing opportunities when it comes to content optimisation. We can compare thousands of keywords across competitor websites, easily show you the exact pages they are ranking for, the terms we should be including and even the optimal length of copy to be in the top ten.
This ammunition allows us to target the best opportunities and start optimising straight away.
5) Ongoing SEO improvements
You can never say that SEO is complete. To get and maintain a high rank, you must make continual improvements to your website whether it's adding new links, great new content, monitoring competitors and changes made by Google, finding new keywords etc. It's imperative to keep ahead of your competitors or newcomers and keep your business growing.
We focus on long-term strategies, not 'quick wins' that don't last. We do SEO properly. When your rankings start to improve, so will your website traffic. When your website is optimised well for conversions, your sales should increase at the same time.
We expect to start seeing results within six to eight months, although this depends on how competitive your industry is.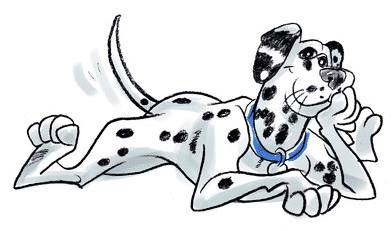 Why Spotty Dog content marketing services
Our beliefs and principles are based on making SEO and content marketing services available to every business, whether just starting up or growing. We care that we do a great job for our customers.
We give honest, big-picture advice and focus on things that are relevant to you
Your content strategy will be unique to you
We don't lock you into a contract. We work on a project or monthly basis
We don't use jargon and we're very happy to show you all the tools we use
There's no hidden pricing or sneaky add-ons
We want to be part of your team, and grow your business.
Our website just wasn't getting any traffic. Jo from Spotty Dog took a look and was able to increase our traffic volume by just under 100%, which meant we doubled our turnover in a year.

Still not sure if we can help you?
We'd love to have a look at your website and tell you how you could increase your ranking, traffic (visitors) and sales through our content optimisation services.
We will look at where you are now, the market you're in and what some of your competitors are up to.
It's FREE, there's no obligation, and if we don't think we can help, we'll tell you!
Click below to get started or call us for a quick chat.