On Page SEO Services
Let Spotty Dog optimise your webpages to help your pages rank higher in the search results.
Click below for a FREE honest opinion on how we can help.
Get a review
What is on-page SEO and what makes a perfectly optimised page?
Our on-page SEO manages the aspects of your website that YOU (or we) can control and improve, like technical elements, content quality, and your site's appearance.
Good on page SEO will make your website rank above the competition so that potential customers will choose your business over theirs. If you would like to read a quick guide on what is on-page SEO and what we do, we think this is the ultimate guide!
Spotty Dog on page SEO services major on great content. It's all about balancing language that informs and engages your visitors, while also including relevant keywords that match your services to what potential visitors search for online.
We include expressions identified by in-depth keyword research in each page's copy and the most essential 'SEO bits' of your site: the page title and meta description.
A solid SEO foundation, and time spent building it, will pay for itself ten-fold.
Our technical, detailed research for the perfect keywords for your business goes way past merely looking at Google Keyword Planner. We have invested in several fantastic SEO tools that allow us to discover the terms and phrases being used to find websites like yours.
We live in a world where pretty much every business now has a website. If it doesn't it should, so there will always be competitors, and there will always be opportunities to gain more organic traffic, and thus potential new customers.
By using our SEO tools, we can advise you what you're ranking for now, and the search terms you could be ranking for, with estimated monthly traffic volumes, to overtake the competition. Plus we can also show you the gaps and opportunities in your on-page content that haven't yet been exploited.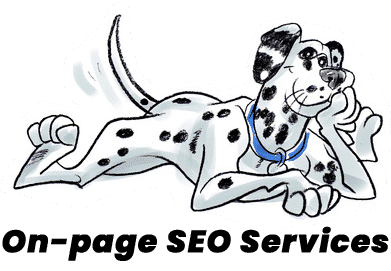 Our free Spotty Dog review will help you understand what on-page changes we could make to increase rankings, visitors and conversions on your website.






Spotty Dog on page SEO services
If you don't have the time or resource to create new on-page content with your new keywords, we can do it for you. We love writing copy that provides search engines with the necessary keywords, while still matching the tone of your website and brand.
We research and write content that builds trust and doesn't trick people. We have over thirty years of experience in business, which means we can understand and quickly establish your goals and challenges.
There are many factors that search engines take into consideration when ranking your site. Here are a few factors that influence your website's ranking, which together we can control and optimise:
The right keywords
SEO works on keywords. If you want your pages to rank in the right results, you must have the right keywords for your campaign
Meta description
The meta description is the little text that appears in the search results. Well optimised, it makes people more likely click to visit your site.
Optimise images
Optimised images help speed up your site and SEO. Resizing, renaming files and adding alternative text is a big part of on page SEO.
Mobile responsive
Mobile-friendliness is an important on-page SEO factor. By creating a responsive design, it'll be easy to improve your site's ranking in the search results.
Keyword placement
Google looks for keywords in specific places, like your title tag, to understand your page and decide if the content is relevant.
Great content
Valuable, relevant, content has a huge impact on your site's SEO ranking as it attracts and drives visitors to your site, and keeps them engaged.
Visual elements
Visual elements like images, videos and diagrams help keep visitors engaged on your pages, and reduce the bounce rate.
Page speed
This is an important user experience factor. If your pages take a long time to load, visitors will leave and choose anther website.
Would you like an honest review of your on-page optimisation?
Would you like to know how people are finding yours and your competitors' sites online? Would you like to know what keywords you should be targeting in your content to reach more organic traffic?
Request our FREE spotty dog website review to uncover some of the opportunities that will make your site fly.
On-page SEO done right
On-page SEO done right needs constant work and maintenance to make sure it is running efficiently.
Each time we add a new page or new content, it needs to be well thought through, and well-optimised for SEO. Otherwise there's no point spending time ADDING content or pages. (Like there's no point paying a lot of money to a web designer for a shiny new website that no one can find).
At Spotty Dog, we focus on long-term strategies, not a 'quick fix', or a 'one size fits all' train of thought, that won't last.
We can optimise one page or many pages, but we will do it properly. When your rankings start to improve, so will your website traffic and conversions. And then your sales will increase as well!
Our website just wasn't getting any traffic. Jo from Spotty Dog took a look and was able to increase our traffic volume by just under 100%, which meant we doubled our turnover in a year.