Search engine optimisation services
Spotty Dog is a Search Engine Optimisation Company (SEO) committed to helping small and medium-sized businesses grow by increasing their visibility in online searches.
Click below for a FREE honest opinion on how you could get more leads and conversions.
do i need SEO services?
What is search engine optimisation?
Search Engine Optimisation, or SEO, is the practice of improving a website to make it more visible to search engines like Google. This process involves developing (optimising) website pages' headings, content, images, titles, meta description and links to internal and external web pages. It is an umbrella term for many strategies that work together. Excellent search engine optimisation services will result in increased website traffic, leads, sales and business growth.
SEO is NOT about 'stuffing' focus keywords into a page's copy, buying hundreds and thousands of backlinks or copying content from one page to another and just changing the location name. And it is definitely NOT a one-size fits all package for £100 a month.
75% of searchers never move on to the second page of search results
At Spotty Dog, we always put you first. We won't do anything until we have found out about you, your business, and what you want to achieve. Every company has different needs, and that's why we ALWAYS tailor our search engine optimisation services to suit each project. We give honest, big-picture advice with a focus on what drives revenue and is most important to you.
SEO should always result in an increase in rankings, an increase in organic traffic and lead to more conversions. We already said that there's no point having a shiny website if no one can find it in searches. Well, there's also no point having a website that ranks first but gets you no sales! Our conversion rate optimisation process will ensure that your website's pages convert a higher percentage of visitors.
Our free Spotty Dog website review will help you understand what changes we could make to increase rankings, visitors and conversions on your website.






How do I know if I need search engine optimisation services?
When people search for phrases and keywords related to your business in search engines, does your website appear at the top of results, or on the first page? If it doesn't, you're missing out on qualified leads and revenue. SEO helps you boost your search rankings and reach more potential customers.
For many small and medium-sized businesses, SEO can seem daunting. That's where Spotty Dog comes in. We can undertake an audit and give you a step-by-step to-do list, be your SEO team, or anything in between.
Below are a few signs your website (and your business) would benefit from search engine optimisation services.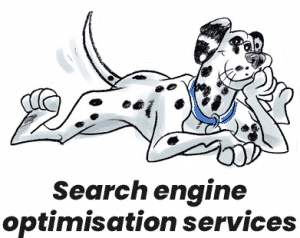 Your site doesn't appear in search results
Your website needs to rank highly for keywords and phrases related to your business. If it doesn't appear on the first page, or top three map results for local SEO, it's a sign you need SEO help.
Assessing your site's current health, identifying your most valuable keywords and what your customers are searching for is one of the starting points for any SEO campaign.
Your site doesn't get much traffic
When you know where your site ranks in search results, you'll want to find out about your organic website traffic (the number of visitors your site receives). If organic search isn't a top traffic driver for your site, it's time to consider SEO help for your website.
To do this, you'll need to enable Google Analytics on your site and then you can analyse your site's organic traffic.
Your site doesn't have an SSL certificate
SSL certificates protect your sensitive information such as credit card information, usernames and passwords.
They keep data secure between servers, build customer trust and increase conversion rates.
No SSL certificate means that your website will have a 'not secure' message in the toolbar, which equals a poor user experience. Google has been penalising not secure sites in rankings since 2017.
Your traffic doesn't convert
Your website is the primary tool that connects with visitors and persuades them to buy your 'thing'. If people visit your site but don't convert, it's an indication that there's something wrong with the overall user experience. Investing in SEO can earn you more conversions and customers.
An SEO strategy will help you improve the content on your website and make visitors find the information they need more quickly. SEO will focus on turning the user experience into a more enjoyable journey where people will ultimately contact you or purchase from you.
You don't use content marketing
Well-researched and well-written content is one of the essential parts of your website. Search engines want to rank sites with valuable content, that matches or answers people's search queries, highly.
Content marketing can boost your rankings and allow you to create pages that are informative AND related to your most important keywords and phrases. And search engines are loving fresh content at the moment!
To see great results from content marketing, as with SEO, you need to stick to a consistent content creation plan.
Your site is outdated
Your website might not be mobile-friendly or match your brand. You might be a bit embarrassed about it. It might have lots of old content and broken links. It might not have a sitemap and duplicate content. It might be very slow.
Resolving all the little technical aspects, through SEO, will help Google and help the overall usability of your site.
Users are looking for fresh, clean and easy-to-navigate experiences. Brand recognition is vital to help people choose you over your competition.
Would you like an honest review of your website?
Request our FREE spotty dog website review.
We'll let you know how our search engine optimisation services could help you and which areas of your website need focus.
What do SEO services involve?
The Spotty Dog strategy builds on extensive research, off-page (technical) and on-page improvements. It also involves creating new, fresh, content to complete the user experience and the development of industry-relevant linking.
Depending on your needs and budget, our search engine optimisation services follow the following strategy:
1) Analyse current SEO
Before we do anything, we will audit your site and analytics setup to understand what is working well. Then we'll optimise all the elements that need improving. The SEO audit is completed in the first month but ongoing monitoring is also part of the package.
2) Research your industry
We will see what keywords and websites are ranking highly in your industry and analyse what your competitors are doing SEO-wise. This information will give us ideas and opportunities to improve your site ranking and increase traffic.
3) Define your SEO strategy
Based on 1 and 2, we will draft a list of the most important actions to take to improve your website's performance. The file will be unique to you and your business, we do not use a one-size fits all model. The list will include optimising content, new content creation and improvement of off-site SEO.
4) Create relevant content
We will tweak what's there and create new content to make it answer as many search queries and questions visitors to your website have. In providing great content for your audience, your site should increase its brand authority and ranking.
5) Ongoing SEO improvements
You can never say that SEO is complete. To get and maintain a high rank, you must make continual improvements to your website whether it's adding new links, great new content, monitoring competitors and changes made by Google, finding new keywords etc. It's imperative to keep ahead of your competitors or newcomers and keep your business growing.
SEO consultancy
We will help you define your SEO objectives and develop a realistic strategy with you can follow. Or we can pick up bits for you. Whatever is best for you.
Technical SEO
We analyse your website and ensure the search engines can easily find, crawl and index its pages for maximum visibility. This also deals with website load times.
Content creation
New content may be needed to work with the types of searches your prospective customer makes. We will use the keyword research to (work with you to) optimise your existing content or create new copy.
Keyword research
Solid keyword and market research are the foundation of SEO. We will research the search queries and phrases that are best for you and your business.
Page optimisation
We will optimise each key page for the most profitable keywords for your business and optimise your site's headings, URLs, images and links.
Competitor research
We will review your competitors, see what they're doing and assess their strengths and weaknesses. Then we'll use this research to see if we can use it to your advantage and boost your website's rank and conversion rate.
Analytics set up
Analytics data is the best way to monitor how well a website is performing. We will install Analytics on your site, if you haven't already, which will enable us to see what effects the changes through SEO are making.
Local SEO
If you haven't already, we will claim and verify your Google My Business listing and then set about optimising so that your business is in the first three map listings for local search.
Backlink analysis
Some backlinks can be harmful to a website's potential ranking and spammy links should be removed, or ignored by Google. Backlinks that are paid for, or offers for 'buy x links for £x' should always be treated with caution.
Link building
Link Building through relevant, quality links is Spotty Dog's preferred strategy over volume and is a great way to improve your website's ranking. Link building is a combination of content marketing, PR and outreach.
How to get started
Are you interested in finding out more about how we can help you? Order your FREE website SEO analysis, and we'll send you our initial thoughts (with no obligation).
1. Order your free review
Tell us about your website, and any other information you want to add. We will send you a free report unique to your business.
Your review will analyse how well your website is optimised for SEO, how usable it is, and what keywords you're ranking for. Depending on your goals, we will also look at your Google My Business listing, social media profiles and have a look at your paid ads, if you're running any.
We will list our SEO suggestions and recommendations for you. Many of our suggestions you can implement yourself. There is no obligation whatsoever to use our SEO services.
2. Pick a strategy
If you like what we send you and you'd like to work together, great! We'll come and have a chat to find out a bit more about your business and goals and then give you some SEO options to choose from, depending on your budget and requirements. All choices begin with a website and SEO audit:
DIY – we will undertake an in-depth audit of your website and competitors and give you a list of actions to take to optimise your website, so it performs better than before. We'll be on hand for a half hour catch up each month to answer any questions.
You choose what you want to work on and we'll pick up the rest. Depending on your budget and what you're comfortable taking on, we agree on how long Spotty Dog spends working on your site each month.
Spotty 'done for you' – we'll work as part of your team to manage your SEO campaign for you, allowing you do do what you do best and focus on running your business.
We focus on long-term strategies, not 'quick wins' that don't last. We do SEO properly. When your rankings start to improve, so will your website traffic. When your website is optimised well for conversions, your sales should increase at the same time.
We expect to start seeing results within the first six months, although this depends on how competitive your industry is.
Why Spotty Dog search engine optimisation services
We know that a lot of businesses have been stung in the past by unscrupulous SEO agencies. Spotty Dog beliefs and principles are based on making SEO services easy to understand and available to every business, whether just starting up or growing. SEO done properly is time-consuming, technical and methodical, but it isn't rocket science.
We give honest, big-picture advice and focus on things that are relevant to you
Your SEO campaign will be unique to you, and not a one-size fits all package
We'll never lock you into a contract. We work on a project or monthly basis
We save you time and get better results than you probably could yourself
We don't use SEO jargon that you won't understand to make us sound clever
There's no hidden pricing or sneaky add-ons
We really want to be part of your team, help you get more traffic and grow your business.
Our website just wasn't getting any traffic. Jo from Spotty Dog took a look and was able to increase our traffic volume by just under 100%, which meant we doubled our turnover in a year.

Still not sure if we can help you?
We'd love to have a look at your website and tell you how you could increase your ranking, traffic (visitors) and sales through our search engine optimisation services.
We will look at where you are now, the market you're in and what some of your competitors are up to.
It's FREE, there's no obligation, and if we don't think we can help, we'll tell you!
Click below to get started or call us for a quick chat.