You may think that it's enough in 2023 to have a restaurant website with some pictures and contact information. But the truth is, if you want your restaurant to be successful in this day and age of online searches for food, you need a restaurant SEO strategy.
Just having an online presence for your restaurant isn't enough anymore. People need to find you quickly and easily across multiple platforms. When potential customers are looking for a place to eat and want to find you as quickly as possible, you must be on the first page of search results. 75% of website clicks go to the restaurants on the first page of a Google search result or Google maps.
One way to achieve this and boost your online presence? Restaurant SEO (search engine optimisation).
Your online profile is crucial because potential customers will research before they dine. A successful restaurant SEO strategy will increase your visibility and search engine ranking to make you more visible on the internet.
Key restaurant statistics:
86% of Millennials will try a new restaurant after seeing food-related content online
90% of guests research a restaurant online before dining—more than any other business type.
57% of those guests viewed restaurant websites before selecting where to dine.
Digital ordering and delivery has grown 300% faster than dine-in traffic since 2014
(source)
As a result of changing customer habits, restaurant owners are investing in search engine optimisation, or restaurant SEO, to ensure their online presence is as good as it can be.
Search engine optimisation may sound complicated, but it doesn't have to be! Today, you can put some simple practices into place to turn your online presence into a significant avenue for your restaurant's growth.
This blog post will take you through everything you need to know about SEO for the restaurant industry, from keyword research and local SEO to social media marketing.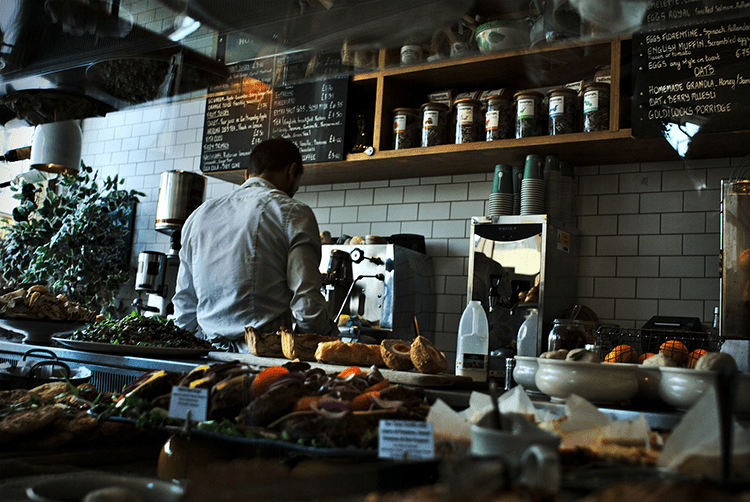 What is restaurant SEO?
Restaurant SEO is the process of affecting the visibility of a restaurant's website or a web page in a search engine's unpaid results, often referred to as "natural," "organic," or "earned" results.
SEO may target different kinds of search, including image search, video search, academic research and news searches. Success may depend on building high-quality web pages that attract relevant traffic from internet users interested in specific products or recipes.
An well-researched, efficient and effective restaurant website and a well-optimised Google My Business profile are crucial in today's digital world for getting potential customers through your restaurant's doors.
Restaurant SEO is a method of increasing your restaurant's online visibility by increasing the number of people who find it. Adding helpful material, such as recipes and blog posts, interacting with your consumers on social media profiles, replying to online reviews and ensuring that relevant information about your restaurant is consistent across local business listings all shows Google that you are relevant. You only need to know the basics of digital marketing to get started and see some results.
Do restaurants need SEO?
In short, yes, they do! Here are three reasons why restaurant owners need to invest in SEO.
1. The number one reason is that consumers are actively looking for you. They want to know what your restaurant has to offer, and they're looking for good value too. Where else can you find a good restaurant for dinner at a reasonable price? Your customers will think otherwise if they can't see the great deals that you have to offer.
2. The second reason is that Google sees things differently now than it used to. Now, many potential customers search for food on their mobile devices while standing in front of a restaurant! If Google doesn't see your site or restaurants location when someone is searching their phone, you're not going to rank at all!
3. The third reason is that you need to compete with other restaurants for the same search terms. If your restaurant site isn't optimised, someone else will get all of the business!
5 Benefits of SEO for restaurants
Restaurant SEO is an important factor for being found online because it can help get customers through your restaurant doors. The key benefits include:
More customer traffic coming to your site
You need to be able to compete against other restaurants in the same area/for the same search phrase
Building brand awareness
Increasing customer engagement
Increased revenue
Restaurant SEO tips
The internet is a powerful marketing tool for restaurants. But it can be hard to know what steps you need to take to market your restaurant online. So here we will explore eleven different ways to effectively use restaurant search engine optimisation and other web-marketing strategies to make sure that your restaurant site gets the attention it deserves.
11 top restaurant SEO tips
1. Optimise your site for mobile
– Keep in mind that more than 50% of internet users will search on their phones. And if they can't find what they're looking for, you'll lose them pretty quickly.
– Make sure to optimise your website with a responsive design, so it's easy for a potential customer to use and read from any device or browser
– Now is a good time to consider whether your website is fit for purpose or in need of a redesign
2. Optimise your images
– Using alt tags for all of the pictures on your site will help search engines understand what's in them.
– Include keywords or phrases to make it easier for a search engine to find and categorise your content. You can also use keyword-rich file names, as well – don't go overboard with this one
-Include good quality images of your restaurant and food
3. Optimise your titles
– Don't just write a title, do research. Find out search terms, keywords and phrases that people are using to search for your restaurant or dishes so you can capitalise on them
– Include at least one keyword in the first 50 words of each post – this is where Google starts reading content
4. Embed a map to show your location
– Embedding Google maps is a very important step for being found in local rankings, don't skip it!
– Add your NAP (name address phone number) to each page – this will help searchers find you more easily.
– You can also add information like hours of operation or menus on every page, so people know what they're getting into when they come to your site
5. Include social media icons
– You want to make it as easy as possible for people to follow you on social media profiles and share your posts, e.g. your restaurant and the food you're serving, reviews, the team, offers, blog etc
– Include icons at the top of each site page so people can find them easily
6. Claim and optimise your Google My Business and Tripadvisor listing
– Fill out all the business listing details for each location to help people find you more easily
– Update as often as possible with new menus, hours of operation, news and offers
– Add pictures or a video, so it looks more appealing to searchers
-Google My Business optimisation is essential to help you show up in the map section of Google searches
– Make sure your content is unique, engaging and provides value to the reader. You don't want spammy posts on your site, or you'll lose readers fast
– Always include a call to action – this will help increase conversions. Be specific about what you're asking them to do (eat at your restaurant, order online), so you can track the success
– Make sure to add your website address in the copy when you're asking them to take an action
-Always reply to reviews
7. Make sure your opening hours and menus are up-to-date
– If you change your opening hours, update your Google My Business listing and include the updated hours on all of the posts
– If dishes or menus are updated, make sure to add this information in a blog post with an image, so people know what they're ordering
– Don't also forget to mention any specials that might be going on at the moment
– Make sure to keep your social media up-to-date with the same strategy as well
8. Get and respond to reviews on places like Yelp, Google My Business and Tripadvisor
– Respond to online reviews as quickly and thoughtfully as possible. You want potential consumers who are considering you, or even current ones, knowing that you care about their opinion
– Respond with a thank you for the feedback
– Include any changes that you will make because of the review
– If they were happy with your restaurant, offer them a discount or special offer as a thank you
– If they weren't happy, try to learn from what they had a problem with and find out how you can fix it. You'll want this customer to come back again for another chance at redemption
– Don't let your reviews go unanswered – the more people that are talking about your restaurant, the better.
9. Create a blog with useful content that will attract traffic
– Keep your blog topic focused on what you do and offer
– Include pictures of the restaurant or dishes so people can see them in detail. You want to show off everything about the place!
-Write about places of interest nearby and include keywords or phrases to make it easier for a search bots to find it
– Use keywords and phrases in your blog post headlines, headings and subheadings so that they're easier for search engines to crawl.
-include recipes and cooking tips, information about what's happening in the restaurant and special offers
-always include your website address or social media link so that people can follow you for updates and share your posts
– Make sure also to include a call to action link at the end of each post. It'll help with engagement, traffic and conversions
10. If you can, it's worth investing in an online booking or ordering system
– If you're not already, take credit cards to speed up the process and reduce errors
– You can also make your online ordering system mobile friendly so that people can order on their phones or tablets as well
– Make sure it's easy to navigate on a phone. People will use this service if they know it exists and find it user friendly
– Allow people to order takeout if they want it, but don't forget to link to your contact information so that they can find you easily in person as well!
11. Give yourself an edge by using Google Adwords.
– It's a great way to get your restaurant in front of potential consumers when they're searching online for restaurants near their location
– Put keywords and phrases that relate to what you do into the Google Adword Campaigns so it will show up as an ad whenever people search those words on google. The more specific this is, the more effective it will be
– On the Google Adwords Campaign page, you'll also want to set a budget and specify how much you're willing to spend per click. This way, if your ad doesn't perform well or isn't clicked often enough, you won't end up spending too much money.
There are lots of things you can do yourself to boost your restaurant's online presence. However, if you're not sure of the best way to do it, consider hiring a professional local restaurant SEO agency or marketing company that can help with this for you.
SEO Strategy for restaurants
When developing a restaurant SEO strategy, the first thing to do is decide who you're aiming your marketing at (your audience) and which geographical locations you're targetting. By defining your audience and location, you can identify what potential customers will type into search engines like Google when they search for your restaurant and create your strategy and content around these.
Restaurant keyword research
Now you can conduct keyword research to find keywords that are relevant to your target customers to maximise your on page SEO strategy results. For restaurants, the three most common keyword groupings are broad, niche-specific, and brand-related.
Broad restaurant keywords
"Places to eat near me" or "Restaurants in Exeter" are examples of broad keyword groupings. There are hundreds of "Restaurants in Exeter" as it is a large city, so you would face a lot of competition by using a broad keyword in Exeter. On the other hand, suppose you want to use a generic term such as "restaurant". In that case, we advise you to narrow down the search by including the area of Exeter, in this instance, where your restaurant is located, e.g. "restaurants in Exeter St Davids". In the example below, you can see some variations of a broad keyword that you could take advantage of.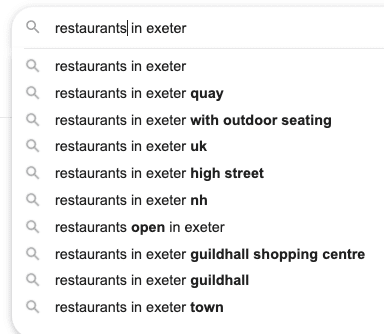 Niche restaurant keywords
"Vegan Restaurant Exeter" or "Indian Restaurant in Exeter" are examples of niche-specific keyword clusters for a restaurant. By focusing on a specific niche, you limit your targeting to the restaurant's speciality and encounter less competition. One easy course of action to determine what niche-specific keywords you should use for your restaurant is to look at sites like Yelp to see the categories and criteria they use for your area. Or perhaps more simply, use the Google search result suggestions.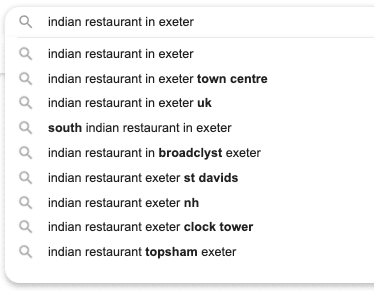 Brand-related restaurant keywords
A brand-related keyword would be its name for a restaurant, but don't assume you'll automatically be at the top of the Google, and other search engines, rankings for your restaurant's name because there are two common problems you can face.
The first issue is that two restaurants may have the same name yet be in different locations. If one restaurant is working on its SEO while the other isn't, that restaurant may rank higher on search results. In the example below, my search for the Castle Inn, a pub only a few miles from me in Holcombe, threw up another Castle Inn at the other end of the county in the first spot.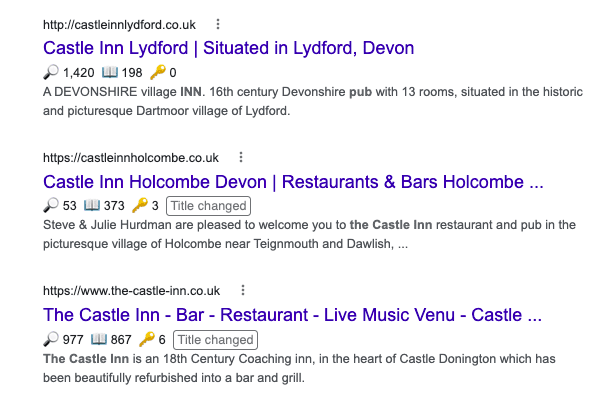 The second issue is that local directories or a restaurant's social media accounts may rank higher than its official website. Some people may not feel that a website outranking their social media page is a negative thing. However, your website should offer more value and has methods to track the traffic that comes to it rather than social media platforms.
How do I find restaurant keywords?
There are many keyword research tools to assist you in tracking the performance of your keywords and providing suggestions on not just additional keywords to pursue but also how to enhance your rankings. For example, Google Adwords Keyword Planner is free to use and provides you with search volume and competition level. Just log in or create an account and click the keyword planner on the dashboard.
We highly recommend SEMrush (after all, it's one of the tools we use the most) for keyword research, and they offer a free seven-day trial. You'll see what keywords your website is ranking for vs your competitors and spot the gaps.
The most important thing in choosing your restaurant keywords is to ensure they are relevant to your restaurant and that you will be able to provide high-quality content on them.
SEO for the restaurant industry
Define your restaurant Content and Conversion Strategy
There's no point in getting visitors to your website if it's not optimised well. What type of food do you serve? Are you very formal or very casual? What's your story? When are you open? Read below to follow our ultimate tips.
Websites will vary in the amount of information they provide and how it is presented, but every restaurant website should include at least:
Your restaurant story
What's your brand? What makes your restaurant unique? Is it a family-owned company with decades of history? Do you know how your food is grown and produced locally? Is it always fresh and organic? Ensure that your brand's story is properly represented on your website so that you stand out in the customer's mind. Your brand story should be front and centre.
There's a great connection between quality and the story behind your restaurant. A gorgeous and user-friendly website with engaging content can showcase your talents and dedicated staff. Online success is not just SEO mechanics. Telling your story and creating a compelling brand will create synergies for you, resulting in a better bottom line. It will also result in greater foot traffic and sales.
Write for your customers.
All restaurant websites MUST provide clear and easily found information:
contact details
opening hours
directions (embedded google map)
online bookings
menu
takeaway option.
The content needs to answer every question a prospective customer has before they commit to booking a table, placing an order or driving to visit you.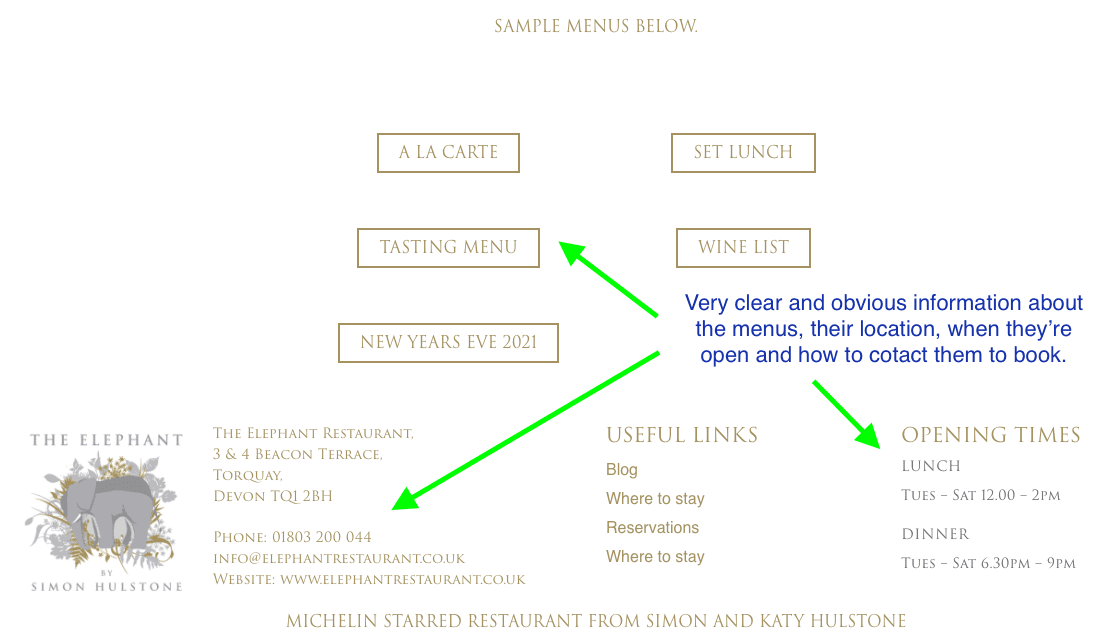 Don't just fill up your content with keywords that attract search algorithms, also known as 'keyword stuffing'. You can put a lot of effort into getting people to visit your website, but if they leave after only viewing one page or only a few seconds, it's all been for nothing. This doesn't mean you should make content too long or wordy. Just don't try to cram as much information onto a page as possible.
Use a natural conversationalist tone and space your keywords accordingly. Dividing text with headers can help make it a lot easier to read. Use appropriate, firm calls for action to drive customers to call, book, or visit you.
Optimise your restaurant menu on your website
Very often, new potential customers will first view your menu before they visit the restaurant. Therefore it is crucial that users can easily find and view the menu on your website, whatever device they're using.
Remember to include lunch and other seasonal specials for your customers to see. High-quality enticing gallery pictures of your food and surroundings also help to motivate a potential customer to come in.
Make sure that your menu is not just in PDF format. The text on PDFs is not readable by search engine crawlers which can decrease your rankings by not allowing your menu to be indexed by Google and other search engines. In addition, PDF files are difficult to view on mobile devices, and users who are on a have to pin and scroll to view your menu, which reduces user experience.
If your menu is long-form and on one page that doesn't require additional clicks or zooming and scrolling, it is quicker and more convenient for mobile users.
What social media platforms does my restaurant need an account with?
There's a variety of social media platforms that you'll want to be active on as a restaurant owner. These include Instagram, Yelp and Facebook. Post regularly. You can share things like offers and events, images of food, your team and customers, great reviews and news articles.
Clear address and phone number
Your target audience must be able to find your restaurant address and other contact details on your website easily. Thus, consider putting your name, address and phone number in the most visible places. Users will be looking for your business on their phones to contact you about reservations or get directions from their cars, offices, and homes, and don't have the time to search through your website.
Make making a reservation easy
Make certain that your site offers information on making a reservation with a single click of a button, especially on mobile. If potential consumers like what they see on your site regarding location, images and menu, and trust your brand, they'll most likely make a booking right away without leaving the page. So make it simple for them; the more obstacles you put in front of a possible client, the less likely they will convert.
Add a photo gallery
Include photographs of the inside of your restaurant to create a more appealing appearance. Customers will decide whether they want to spend their time in your restaurant based on the interior and ambience, especially if it's new.
Add an email list sign up
As a restaurant, your email list is a valuable tool for communicating with and engaging with your customers, whether it's new events you're planning or new dishes you're releasing. Having a clear and accessible sign-up form builds loyalty. In addition, it is a great way to promote new dishes or offers and keep your guests updated on anything else going on in the industry that might be interesting.
Engage With Customers on Social
Social media is a valuable touchpoint in the customer journey, showing them what to expect during their visit. A strong social presence typically goes hand-in-hand with a strong organic search presence; content, discussion, and popularity support the essential SEO principles of relevance and authority. By interacting with fans and distributing material on social media that directs people to your main website, you will see increased visits from social networks.
Your restaurant website must be mobile-friendly
According to Statista, around 53 per cent of overall internet traffic comes from mobile devices. As a result, customers will quickly pass you by for a site that is more mobile-friendly if your restaurant's website takes too long to load or appears unprofessional on a mobile device.
Google gives higher rankings to mobile-friendly websites. In addition, you can use Google's mobile-friendly test tool to see if your website is mobile-friendly.
Your restaurant website needs to be fast loading.
As we've already said, most users visiting your website will be on mobile. If your website is slow and takes a long time to load, it makes for a bad user experience, and Google now penalises websites with sluggish loading pages. You can test your website's speed using tools like page speed insights and GTMetrix.
Make sure your website is secure.
If your restaurant website has an email sign-up or takes online reservations, you will be collecting personal information. To ensure that your website's visitors are secure, you must make sure it is SSL safe (proven by the padlock on the address bar). In addition, you ensure that data kept on your website, such as personal information, is safe from outside risks like hackers who try to steal it by making it secure.

Furthermore, as of July 2018, Google now considers non-HTTPS websites to be non-secure, which may impact your search engine rankings and, again, user experience.
Install analytics to track progress
How do you know if your search engine optimisation efforts are paying off? Apart from seeing an increase in physical visitors, it's important to install analytics on your website to show you what people are doing on your site and where they're coming from, which can help you identify possible problems or gaps in optimisation efforts.
Google Analytics and Google Search Console are important tools to help you rack your organic visitors and allow you to increase your visibility on Google by being able to add your website to Google's index.
Optimise your restaurant site's page titles and meta description
Assuming you've identified the keywords you wish to target, you need to improve your website's on-page SEO in order to get the most out of Google's search results.
The use of headline tags has a big influence on the performance and search rankings of your restaurant's website. As a business, make sure all of your title tags are descriptive, unique, and targeted to your keywords so that Google can find you more quickly. If you use the same keywords and title tags repetitively, you will be punished in the search rankings for doing so.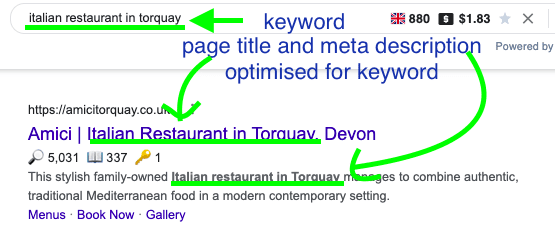 Although search engines do not use them for rankings, the meta description is what shows up in search results pages and helps convince users to visit to your restaurant's website. A strong description should offer 160 characters or less to describe your business. Your meta description helps determine if a potential customer chooses your restaurant over another. Always make sure you give it as much information as possible by highlighting some of your keywords. Google will automatically fill your meta description, even if you don't specify one, by taking the text that appears first on your home page.
Add restaurant schema markup
One of our final tips is Schema markup which is a form of structured data that is placed in your website's code that assists search engines in understanding of the content of that page. If your business has a schema and you use it on your menu page, for example, a search engine may include it in search results.
Additionally, you can showcase your review star ratings in search results using structured data markup which gives your users a compelling reason to click on your website versus a competitors' site.
The importance of local SEO for restaurants
Local SEO is based on searches that people do nearby to their location. The goal of local SEO is to list your business as an option for local consumers searching for restaurants in their neighbourhood. You want the local population to find you while looking for a nearby restaurant, rather than other restaurants near them.
Local SEO is especially important if you're located in a suburban or rural area since many people are looking for local restaurants and may not know about yours if they don't see them on the map. The Google' map pack' is the best way to show up on Google search results and get noticed. How often do you click one of the first three results you see there if it appeals to you?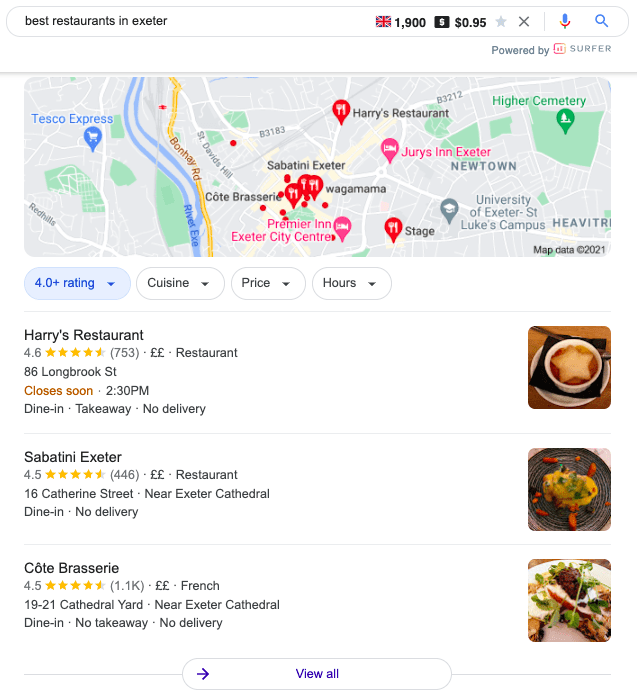 Dominate in Local Searches
As a restaurant, you must optimise your local SEO efforts as much as possible. Restaurants are more reliant on local search than most other kinds of business. When a user performs a local search, search results pages gives businesses nearby precedence.
Local listings and citations
Any mention of your restaurant on a local business listing is called a citation. You can increase your creditability and trust with the search engines by including your restaurant in local and timely business listings. Yelp and Tripadvisor are two of the most important sites to appear on when it comes to your restaurant's visibility because these listings will typically have a higher rating in search engines than the actual restaurant site. The more business listing citations appear on the internet, the more authority your website will have, resulting in improved rankings, especially for local searches.
To dominate in local search, start by claiming and optimising listings and keeping consistent information name address phone (NAP) across all of the major and relevant local search properties. Aside from getting listed in online directories that cater to a specific niche, there is also a variety of search engine sites, social networking sites, and industry-specific directory sites that you should be on.

Brightlocal and Yext are two tools that can help you understand what directories and external data sources are available and help you keep control of your business listing. Then you can work on optimising information like the business description and business categories to align with your focus terms identified in your keyword research.
Local link building
When relevant, high-quality websites link to your site, you build authority and trust with the search engines. The more relevant and high-quality your backlink profile, the higher the chance you will rank well on search engines. A backlink is when an external website links to your website.
Local link building can also be about getting well known in the local community. For example, you could do free catering at a local children's rugby tournament, host networking groups or sponsor local events. These things will help you build links to your website and increase your visibility in the community, which should result in more traffic to your site over time.
Google My Business
One of the first things your restaurant should do to boost its Google search rankings is to list itself on "Google My Business." The first thing you will see on most local restaurant search results on Google is the Google' map pack' with three restaurant locations. Being in the top three of that list is the aim of your local SEO efforts.
Five reasons to should optimise your Google my business listing for your restaurant.
Rankings in Google Maps
More Leads
Accurate Business Information
Customers can leave online reviews on your listing with ease
You don't have to pay for the service, but it does offer some paid extras like enhanced profiles and customer support.
For your restaurant, Google My Business has the most comprehensive capabilities, including:
Quick links
You can add your own URLs for specific activities, such as checking out the menu or making a table reservation, using Google My Business. Not only do short links help your clients locate the correct information quickly, but they also give more space in local search results. They also enhance your conversion rates as customers can take action like booking a table directly from your listing.
FAQs
The Q and A feature lets you ask and respond to questions about your company. It is critical that you only ask questions that will be beneficial to your users. Most importantly, keep an eye on your clients' inquiries and be the first to respond when they're posted on your company profile.
Google posts
Google Posts allows you to add posts of up to 300 words with pictures and links with a call to action like 'learn more' and 'get offer'. These pages are ideal for promoting special offers, organising events, and sharing news about your business. This allows you to convert customers even easier and more efficiently because they can redeem an offer or buy something with a simple click of a button.
Conclusion
We understand that running a restaurant business is time-consuming and that you need more than simply delicious food to attract new customers. With most people searching for new eating locations online, it is critical to maintain your restaurant SEO at all times.
Now that you know how to get started and a guide you can reference here, it's time to implement the strategies you have learnt here. It may take time for SEO to work, but the sooner you start, the better. Therefore, it will be beneficial if you start your online restaurant strategy as soon as possible in the long run.
Restaurant SEO services
We hope this ultimate guide to restaurant SEO and our restaurant SEO tips have helped add some new strategies to your marketing plan. If you don't think you have the time to implement everything or need more help to get people to find your business online, don't hesitate to get in touch. As a restaurant business SEO agency we're always happy to chat!
Would you like an honest review of your website?
Request our FREE spotty dog website review.
We'll let you know how our search engine optimisation services could help you and which areas of your website need focussing on.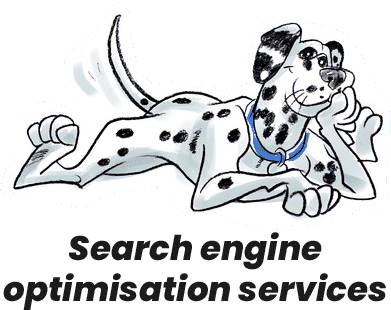 Do you have a great product or service, but you need help getting the word out? Or do you wonder why you need SEO for your business?
We're often asked, "What industries need the most marketing help?" but when it comes to it, all businesses require some form of online marketing in order to increase leads and sales successfully. It's just that some need it more than others.
We know how to get your company found online. We can make sure people find you when they search for what you offer with our SEO services and website design. Spotty Dog is here to help!
With our expert guidance, we'll show you how to rank higher in search results, so people can find your site when they're looking for what you have to offer. Let us do all the work so that you can focus on running your business.
Contact Spotty Dog today and let us show you how we can help grow your business with our SEO services and website design.